Top 5 Eco Luxury Stays
In the last five years the travel industry has picked up its act when it comes to offering sustainable experiences. Not only have more agencies, accommodations and destinations embraced the eco agenda, but many have done so without making the holiday goer sacrifice an ounce of luxury. Good news for those seeking a richer and more responsible travel experience who are less in favour of bamboo shacks and compost toilets. Here are my top five eco-accommodations not to be missed: Soneva Resorts, Maldives and Thailand
Owned by the original gurus of the Six Senses resorts, Eva and Sonu Shivdasani, the Soneva resorts are the types of places you drool over in the winter months. Think turquoise seas and skies, bare-foot luxury, being pampered at the waters edge and even the chance to dine in your very own tree house. Despite chic appearances, an eco ethos is at the heart of Soneva, proven by their aim to become carbon neutral in their operations by 2015 – an ambitious target!
From $650 per night based on two sharing in Soneva Fushi, Maldives.
Green House Hotel, Bournemouth, UK
Admittedly Bournemouth is not the most luxurious of travel destinations, but the Green House Hotel has to get a mention for proving that sustainable credentials makes a hotel experience infinitely better. Tipped to be one of the greenest hotels in the UK, there isn't an eco stone unturned at this 33 room boutique hotel. Furniture is made from storm-felled British ash, paint is locally made and free of chemicals, food comes from within a 50 mile radius and the Victorian roll-top tubs are all reclaimed. The result is a building so calming that when I visited I couldn't bring myself to do much other than bath, eat and sleep.
From £155 per night based on two sharing with dinner and breakfast midweek.
Singita Game Reserves, South Africa and Tanzania
Singita believe that only by balancing hospitality, conservation and community can they offer a truly top notch safari experience. Which makes perfect sense, given that people go on safari to absorb a unique and precious habitat. As with the Soneva resorts, Singita camps are in harmony with their surroundings and all the more beautiful for it.
From £650 per night based on two sharing.
The luxury credentials of The Savoy hardly need to be mentioned, but since the £240 million re-fit project that kicked off in 2007, the hotel also has an impressive environmental record. Last month it won Best Food Waste Strategy at the Sustainable Restaurant Association Awards, adding to its repertoire of 10 eco and green hotel awards. Whereas at the Green House Hotel eco initiatives are very much part of the guest experience, at The Savoy they are behind the scenes, leaving guests to concentrate on a lavish night in one of the world's finest properties…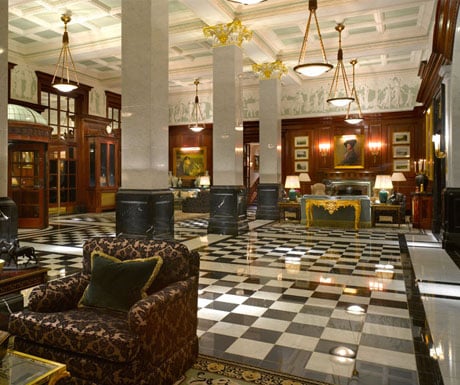 From £486 per night based on two sharing.
In the heart of the Atlas Mountains overlooking snowcapped Jebel Toubkal, this Kasbah is more than just a pretty view (although it's worth coming for that alone). Once left to become an ancient ruin, the building was restored and turned into a basic education centre in 1995 and over time has been lovingly transformed into a renowned luxury eco lodge. Community is at the heart of everything that is done here with 5% of your bill going towards services in the village including clean water, a local ambulance and rubbish collection. Preferring the name Berber Hospitality Centre than hotel, the Kasbah is largely run by locals providing a wonderfully authentic Moroccan experience.
From £135 per night with breakfast based on two sharing.